There are five main model variants of the Yanmar 3GM in circulation. The original 3GM engines were produced from 1980 to 1983 but were then upgraded to the 3GM30 engines for 1983 to 2005 when production ceased. The "F" indicates indirect cooling. The difference between the 3GM / 3GMF / 3GMD (20hp) and the 3GM30 / 3GM30F (24hp) is in the displacement and operating rpm of the engine, as well as the alternator output. See the table below for exact specs.
The difference between the 3GM and the 3GMD is that a different model of marine gearbox was fitted to the same engine body. The 3GM had a KBW10-D and the 3GMD had a KM3-A.
Model
3GM /
3GMF /
3GMD
3GM30 /
3GM30F
Years of Production
1980 - 1983
1983 - 2005
Idle (no-load) speed (rpm)
850
850
Full load speed (rpm)
3750
3825
Fuel Injection Timing
28° before TDC
18° before TDC
Valve Clearance
0.2 m (0.008 in.)
0.2 m (0.008 in.)
Oil Capacity
2.6 litres / 2.8 qt
2.6 litres / 2.8 qt
Num of Cylinders
3
3
Displacement
879 cc / 53.6 cu. in.
954 cc / 58.2 cu. in.
Horsepower
20 hp @ 3400 rpm
24 hp @ 3400 rpm
Gearbox
KBW10D
KM3A (GM3D)
KM3A or KM3P
Gearbox Ratio
2.14, 2.63 or 2.83
(2.36, 2.61 or 3.20
for KM3A)
2.36, 2.61 or 3.20
How is it cooled?
Is your engine raw-water or fresh-water cooled? Note that the raw-water cooled engines have no heat exchanger – the large unit on the top with "YANMAR" embossed on it.
Do you have a Japanese or a European Engine?
The Yanmar 3GM30 engine was available in two main variants. One was manufactured in Japan and is known as the 3GM30 and the other was partly assembled in Europe, in the Netherlands from the mid-80s, and is known as the 3GM30-YEU. The YEU variant has an "E" at the beginning of the serial number although notice that the label still has "made in Japan" at the base (both shown in the image). The YEU varient is identical to the Japanese engines in most ways but the raw water pump is an area where the two engines differ. So if you are changing the impeller, be sure to pick the correct guide for your engine.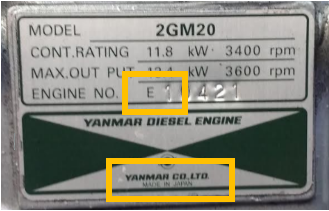 Components of the 3GM Engines
1 Reduction and reversing gear
2 Output shaft coupling
4 Installation foot
5 Engine lube oil dipstick
7 Cooling water pump
8 Fuel feed pump
9 Exhaust manifold
10 Mixing elbow
17 Fuel injection pump.
20 Speed control lever
21 Cooling water drain cock
(Cylinder block/Exhaust manifoid)
22 Fuel filter
24 Fuel injection limiter
28 Engine stop device
29 Fresh water tank
30 Pressure cap
3 Clutch control lever
11 Air intake silencer
12 Alternator
13 Lube oil filter
14 Starter motor
15 Decompression lever:
18 Fuel injection valve
19 Crankshaft V-pulley
21 Cooling water drain cock
(Cylinder block/Exhaust manifoid)
23 Breather pipe
25 Engine lift plate
26 Lube oil supply port
27 Oil pressure sender
31 Cooling water (fresh water) pump
How much lubricating oil does a Yanmar 3GM need?
For an oil and filter change on the Yanmar 3GM, plan to have 3 quarts (3.5 litres) of mineral oil on hand. With the new filter on, pour in 80% of the oil, decompress the cylinders and then turn the engine using the cranking handle for 20 seconds or so. Then use the dipstick to top the oil off.
TOP TIP: Use this handy printout to record all the important details about your Yanmar engine and then file it away safely at home for future reference.
Upgrade jobs for your Yanmar 3GM
Maintenance jobs for your Yanmar 3GM
Changing the primary fuel filter on your marine diesel installation
Checking the starter motor drive belt on your Yanmar 3GM30
Removal and inspection of the air filter on the 3GM30
Removal and inspection of the exhaust mixing elbow on the 3GM30
Descaling the raw water coolant channels in your 3GM (Raw water cooled engines only)
Descaling the heat exchanger in your 3GM (Fresh water cooled engines only)
Winterising jobs for your Yanmar 3GM
Before haul-out:
Yanmar 3GM30 engine oil and filter change
After haul-out:
Flushing salt-water from the Yanmar 3GM30 and introducing anti-freeze
Clean and winterise the raw-water filter
Before launch:
Stern gear: Grease your lip seal or refill the greaser on your stuffing box
Changing the Secondary Fuel filter on the Yanmar 3GM30
Inspecting the anodes on your Yanmar 3GM30 (Raw water cooled engines only)
Removing and testing the thermostat on your Yanmar 3GM (read more on thermostats)
Removing and inspecting the air intake filter/silencer on the Yanmar 3GM
After launch:
Video: Click to watch a short video of the Yanmar 3GM30 running
A smart skipper learns from the lessons of others.
In our Yanmar GM Series Almanac section, we have a series of previous questions and queries from Yanmar GM owners along with answers. Many of these have been adapted from discussions on the "Yanmar Marine Engine Owner's Group – Repair and Discussion" Facebook group which is a fantastic resource for getting help.
Do you want to get future Yanmar GM Series Almanac articles straight to your inbox? Sign up to our Yanmar GM Series Owners' Group today and we'll make sure that you're first to see them. And we definitely won't share your email address with anyone else.
DOWNLOAD: Click here to download the original Yanmar 3GM30 sales brochure
DOWNLOAD: Click here to download the original Yanmar 3GM30F sales brochure